Students zoom toward careers in cars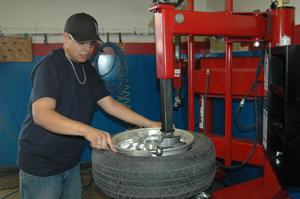 EDUCATION IN ACTION: Senior Chris Contreras dismounts a tire in the auto shop at Hemet High School last week. Contreras, 17, already owns his own tire shop, Chris' Tires.
VALERIE DETWILER / The Valley Chronicle
Chris Contreras is not your average 17-year-old high school student.

Not only is the Hemet High School senior a full-time student, he also owns his own business - Chris' Tires.

Contreras said his dad started the shop for him a year and a half ago.

He learned most of what he knows of cars in high school. Contreras is part of the school's ROP automotive program.

The ROP automotive technology classes exist to help prepare students such as Contreras for careers in the automobile industry. Without the education, Contreras would not have the skills to open his tire shop.

Instructor Vance Bloom said Hemet has the only Automotive Youth Educational Systems and National Automotive Technicians Foundation-certified program in Riverside Country.
Bloom oversees nine ROP programs and is, himself a master technician.

Bloom said because the school's program is certified, it gets perks, such as paid internships for the students at San Jacinto Valley dealerships, and nicer cars on which students can learn are donated to the shop.

Hemet has 15 shop cars, including a Lexus LX 430 in perfect running condition and a Toyota Tacoma truck. Both cars are fairly new and were donated to the program.

Both AYES and NATEF invite schools to participate because, Bloom said, there are not enough young people going into the automobile industry.

He said cars are getting more technical and there are fewer people to work on them.

The introduction to auto mechanics class prepares students to get a job in any tire shop, changing and rotating tires and fixing flats, said Bloom.

In the introduction class, students learn basic skills about wheels and tires, starting and charging systems, cooling systems, tune-ups, routine maintenance, and engine computer control systems.

The upper-level classes get detailed and cover brake systems, electrical systems, and engine performance.

Bloom said basic auto mechanics attracts students for three main reasons: They enjoy cars and want to learn more about them, they would like to be able to repair their own cars, or they want to have enough knowledge so they don't get ripped off when they go to a mechanic to have work done on their cars.

"The more they know about (cars), the less likely they are to get cheated," Bloom said.

To enroll in the ROP upper-level classes, students must be 16 years old. However, Bloom said if a student shows a genuine interest and passes all of the requirements to take the upper-level classes, special arrangements can be made.

The classes are not only geared towards boys.

Bloom said girls have been some of his best students "because they follow directions and ask questions." Boys, he said, tend to try to figure things out without directions.

Last week, the upper-level ROP students were learning how to secure a job at a garage.

Bloom said they learned how to put a resume together and how to interview. The students would have to call businesses to schedule interviews and present their resume. Jobs range from working in a tire shop to working at a dealership.

One student, John Mulgannon, was trying to get a job at Patton Racing, a place in town that works on NASCAR engines.

"I want them to pick a place to work that they are interested in," Bloom said.

Bloom said when students find their niche in the automotive industry, they are much more successful than if they were to do something they didn't enjoy.

The ROP automotive technician classes don't just teach students about cars. The classes rely on math and science, Bloom said, and students are encouraged to do well in those topics so they can better understand cars.

He said math skills such as decimals, fractions, measurements, and geometry are used in auto mechanics.

To achieve the level of a master technician, students must take and pass those subjects at the community college level.

Bloom said Honda has a curriculum at Mt. San Jacinto College that prepares students to work at its dealerships and Toyota has one at Riverside Community College. Both programs include math and science.

"We encourage these guys to do well in math and science so they can move up the ladder faster in their careers," Bloom said. "In order for them to be successful in their careers, they must excel in math and science."

Hemet has matriculation agreements with both colleges that enable students to earn college credit for the upper-level classes they take at the high school.

The auto mechanics program is branching out soon.

The classroom shares a wall with the school's weight room, which will soon be relocated to across Stetson Avenue, next to the stadium. The weight room will then serve as an extension of Hemet's auto shop. However, it will specialize in the repairing of agricultural equipment, such as small tractors or large mowers.

John Deere has already agreed to sponsor the program.

Bloom said he could be making a lot more money working as a master technician. However, he said, he has to love his job and he loves teaching students about the thing he is passionate about - cars.